Everyone and their second cousin wants to get started in real estate investing, but the immediate problem many run into is lack of funding. The truth is it's not cheap, relatively speaking, to buy even a modest investment property, especially when compared to the upfront cost of buying a share of blue chip stock. So we get what we have in America today – inferior Wall Street stock investments masquerading as the "creme da la creme" of investment strategy.
But what if we told you how to start a career in real estate investing for virtually no expense at all? Would you be interested? If so, keep reading. Actually, you should keep reading even if you're not interested in learning how to buy profitable rental properties because today's stock market will almost certainly turn on you at some point, laying waste to the nest egg you spent so many years and tears to carefully build up.
Here's how to start real estate investing on the cheap and learn the business from the ground up at the same time. You've probably heard the term "bird dog" before. In short, it is a phrase used to describe a person who locates properties for deep-pocketed buyers. For this service, the bird dog, or locator if you prefer, is paid a finder's fee by the eventual buyer. There are a couple of serious benefits to bird dogging.
Build Your Knowledge Base:
There is a learning curve to property investing: don't let anyone tell you there isn't. The question you have to ask yourself is this: Do I want to learn the business sitting in a stuffy classroom listening to high-dollar regurgitation, or would I rather put my feet on the street and learn by doing? Locating properties for buyers is a perfect way to figure out how real estate transactions work in the real world.
Fund Your Future Investments
While finding one premium property for a buyer is not likely to fully pay for your dreams of becoming a real estate investor at some point in the future, you can save your finder fees' up until you've got enough to make a down payment on one of the excellent investment deals you are now a pro at locating. Keep in mind that you can keep your real job while working on referring properties on nights and weekends. Seems to us that saving EVERY bit of your locator income is a great way to eventually fund your own land or house purchase.
There's also a decent chance you can find a mentor while digging up great property deals. Put yourself in the shoes of the guy with money. Everyone's coming up to you asking for free advice. But what about the one guy who shows up with a lead on a great property deal? You're likely going to listen to what he has to say a bit more closely. The point here is that you, as the locator, are bringing something of value to the table. This gives you leverage and a chance to build business relationships in the industry that could end up helping you down the road.
While you can become a property locator today – right now – we realize that some folks like to have a trusted voice in their ear before taking the plunge. That's okay. In fact, it makes a lot of sense. That's where Hartman Wealth Management comes in. We offer the complete solution for real estate investors at a price you're going to like – nada. In other words, nothing. Over the past few decades, super investor Jason Hartman has amassed an impressive collection of real estate investing knowledge that he loves to share. Pick your favorite method of learning. The Creating Wealth Show podcast, hosted by Jason, is well over 200 episodes of nitty gritty information nuggets about how to create the kind of financial wealth that can change your life. Listen for free.
If live learning is more your style, no worries. For a modest cost, book one of our private investment tours or regular educational event offerings.
Like to read? We've got a private membership area, newsletters, email subscriptions, regular blog postings, and much more. The bottom line is you don't have to do this alone. We stand ready to help in any way we can. Visit JasonHartman.com to learn more. Our next event is "Creating Wealth in Today's Economy 101 Bootcamp", which will be January 7, 2012. Read more about it here.
The Creating Wealth Team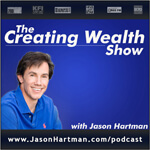 Flickr / r w h