Product Description
With this Creating Wealth Encyclopedia you will learn how to:
Benefit from the current financial crisis.
Shift from "Optimist to Opportunist" and become very wealthy.
Take advantage of The Great Inflation Payoff.
Pick local markets untouched by the economic downturn.
Exploit Packaged Commodities Investing.
Achieve exceptional returns safely and securely.
Protect the equity in your home before it disappears.
"Outsource" your debt obligations to the government.
Start with a small amount of capital and get the bank to take most of the risk.
Easily convince a complete stranger to pay off your loan.
Sit back and collect checks every month just like a banker.
Much, much more...

Creating Wealth Shows 1-60 include:
Slow and Steady Real Estate Investing
Investor Beware
Evaluating Risk in Real Estate Investment
Shift to Markets with Upside
Real Estate in Different Markets & Real Estate Investing Software
Investing for the Long Term
Spotlight on Platinum Properties Investor Network
Where the Market is Going and Mortgage Resets
Where is the U.S. Real Estate Market Going? Where are the Bubbles?
Fixed or Adjustable Rate Mortgages
California Real Estate Forecast
Real World Real Estate Investing/What's Hot and What's Not
KABC Radio Interview
Seventeen Ways Rich People Think and Act Differently
Jason's Ten Commandments of Successful Investing™
ROI: Some People Just Don't Get It!
Inflation, Immigration and Investing
The Great Inflation Payoff
Eliminating Investment Risk
Area Profile: Austin, Texas and Mobile Alabama
The IRS PAYS YOU to Invest in Real Estate! The Go Zone - A Gift from the Government
It is Time to Increase Your Rents, Thanks to the Mortgage Meltdown
The Three Dimensions of Real Estate Investing
Rental Coordination and L.A. Radio Interview - Two Part
An Interesting Little Lesson in Banking, Debt, Economics, and Investing
Macro Markets vs. Micro Markets & Investing In Eastern Europe - Two Parts
The IRS Real Estate Professional Status, Material Participation, & a Second Chat about the Go Zone
The Secret Power Within Your Mortgage, The Bogus CPI/Core Rate, Foreclosures and Rent Increases
Refi Till Ya Die™
Get 36 percent ROI Tax Lien Investing & Eric Lofholm on Sales Skills
Winning by Giving, Careless Banks, Money without Debt, Boom Towns and Real World Financial Freedom
Into to Commercial Real Estate & Getting Your Spouse into Investing
A Mino Portfolio Makeover, A Common Question & Winning By Borrowing
It Pays to be Irresponsible: The Subprime Bailout and Legal Tax Avoidance
Investment Pornography, Grand Junction, Colorado Market Profile, Radio Interview on the Paulson/Bush Rate Freeze, Q & A
A True Christmas Story About America's Best Export – Freedom, "Shift Happens"; Commercial Real Estate - Part Two
Dow Jones: Record High or Record Lie? Ladies: "A man is Not a Plan" – Women and Investing
Getty: "Buy When Everybody's Selling" – A Conference Call
Earl Nightingale's Strangest Secret, Kansas City, and Sunscreen
Thou Shalt Maintain Control or Pools Are For Fools, Then Jim Cramer and Mad Money
Why Trump and Hartman Love Debt and Why You Should, Too!
The Seeds of Success, Fending Off an IRS Attack, & One of Our Clients from Across the Pond
Best Practices on Organizing Your Investments and Working with Property Managers
So, What Do We Do Here? ID Theft Protection, Merrill Lynch Does It Again
U.S. vs. International Markets, Missed Fortune, The Power of Analysis & Meet Another Client
How to Make a Killing in Commodities, Sort Of
The Journey of Investing and Financing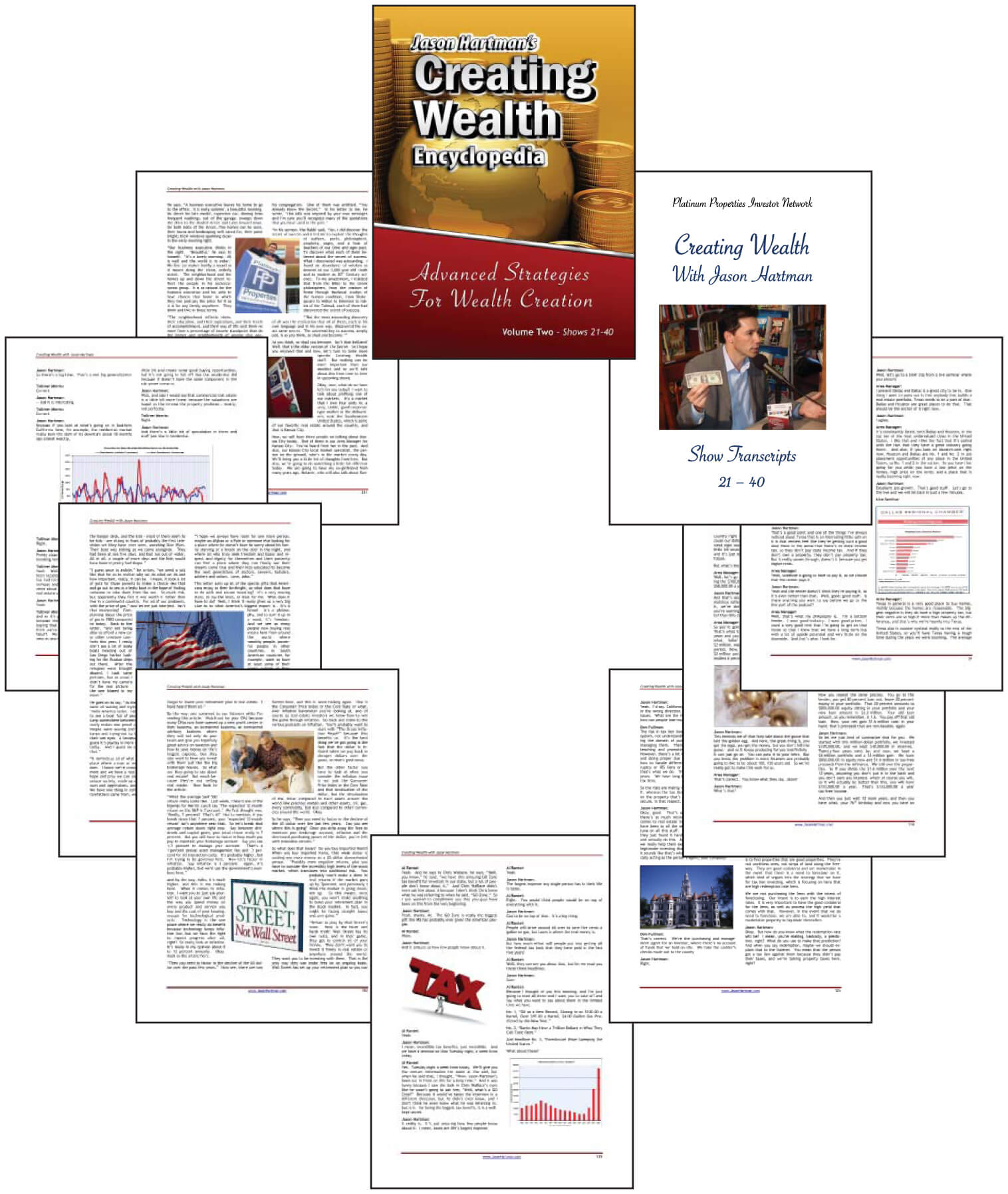 Amsterdam Doesn't Take Dollars
Personality vs. Character – Sowing and Reaping
Passing the Torch: China Emerges
Markets That Make Sense & Buyer Beware of False Advertising
The South Shall Rise Again: Part 1
Negative Interest Rates, The Subprimer Primer & The South Shall Rise Again – Part 2
Exit Strategies: Don't Kill the Golden Goose
Mid-Year Update: Radio Interview
Getting Paid to Borrow
Examining the REO and Foreclosure Market
Happy Financial Independence Day
Gratefulness vs. Entitlement
Sound good? With the Creating Wealth Encyclopedia, welcome to investing the way it should be. Enter the world where anything less than a 26% annual return is disappointing. Get excited about these scary times and exploit the incredible opportunities. Welcome to the rest of your life.
**This is a digital download.